Home  ›  Solutions › Parking Lot Solution
Design Solution
Professional parking lot lighting design, not only to meet the requirements of brightness and lighting time, but also to ensure the lighting safety. Outdoor parking lots are mostly located in relatively open areas, and there are many commercial and activity centers around. Parking lighting design should also consider lighting safety, environmental protection and the needs of brightness at different time periods.
Outdoor parking lot lighting design
There must be stronger lighting on both sides of the entrance and exit of the parking lot and the railings to facilitate the staff to check documents, license plates, fees, etc.
The signs and markings in the parking lot need to be illuminated to be seen, so the lighting of the signs and markings should be taken into account in the lighting design to ensure that they can be clearly displayed.
Illumination requirements for parking spaces in the parking lot must ensure that ground line markings, floor locks, isolation barriers, etc. are clearly displayed to ensure that drivers can safely drive into the parking space.
Pedestrian lines in the parking lot, when drivers pick up or get off the car, the pedestrian section should be designed according to the consideration of ordinary pedestrian roads, and provide suitable ground lighting.
The lighting of the parking lot should reduce the impact on the off-site environment and atmosphere without destroying the harmony of the environment itself. The above problems can be improved through the arrangement, orientation and timing of the lighting fixtures.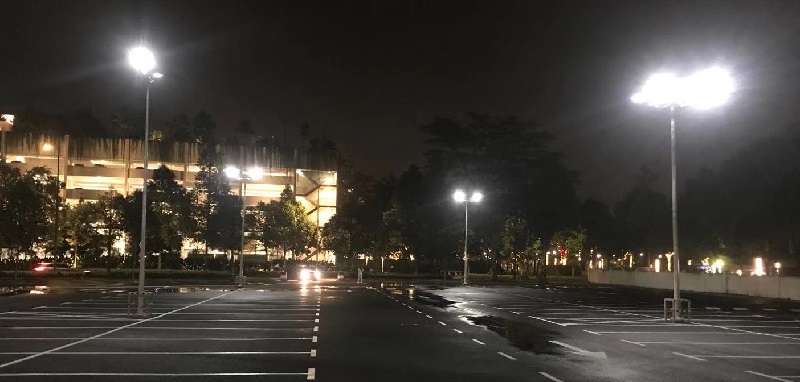 The development of LOT technology can be fully utilized in outdoor parking lots.
The dimming, timing, sensing, linkage and delay of lights can fully play a role in outdoor parking lots. Also, different color temperatures have a greater impact on the driver's sight. Warm color temperature light often has high penetrability which will protect safety driving in rainy nights, so we can install the 2 color temperature switch lights in the parking area,white color temperature suitable for normal nights and warm color temperature for rainy nights.
SOLARAXY Solar area light with APP smart control and dual color temperature switching could be your good choice!
Parking Lot lighting application scenarios